Uncompromising High-Reliability &
High-Frequency Conformal Coatings
Paratronix's SignalSeal is a proprietary polymer that is deposited in ultra-thin and uniform layers on high-frequency or high-speed circuits, protecting these circuits from the elements without degrading performance. Meeting, and exceeding, a battery of industrial and military performance standards, SignalSeal is the premier conformal coating technology for protecting circuits to 100 GHz.

Withstands Harsh Environments
SignalSeal is an ultra-thin, pinhole free, conformal coating providing military grade environmental protection at a thickness of only 1 micron.

Maintains Signal Performance
SignalSeal exhibits electrical characteristics ideal for high-speed and high-frequency applications to 100 GHz with negligible impact on signal integrity.

Ideal for Delicate and Complex Structures
SignalSeal is applied using a contactless, room temperature chemical vapor deposition (CVD) process suitable for the most delicate structures and materials.

Provides Cost Saving Workability
SignalSeal enables easy part removal without the need to strip the coating first. A reapplication is all that is needed to ensure protection to the highest standards.
Learn How Conformal Coating Has Evolved for Critical Applications
A new breed of conformal coating allows for common and efficient mass assembly processes, military-grade ruggedness, and minimal impact on RF and high-speed digital performance.
How Does
Stack Up?
Coating
Dielectric
Constant
(@ 1 MHz)
Dissipation
Factor
(@ 1 MHz)
Typical
Thickness
(micrometers)
RF & High
Speed Digital
Performance
Environmental
Protection
Reworkability
SignalSeal
2.62
<0.001**
1
Parylene N
2.65
0.0006
12.5-51*
Parylene C
2.95
0.013
12.5-51*
Acrylic
2.7-3.2
0.02-0.03
25-127*
Epoxy
3.1-4.2
0.02-0.03
25-127*
Polyurethane
3.8-4.4
0.068-0.074
25-127*
Silicone
3.1-4.0
0.003-0.006
51-203*
*According to MIL-I-46058, IPC-CC-830, and NASA-STD 8739.1 standards
**Preliminary testing performed with a MDC Mercury Probe at 1MHz with device limitations on measuring lower values of dissipation factor
How Does
Perform?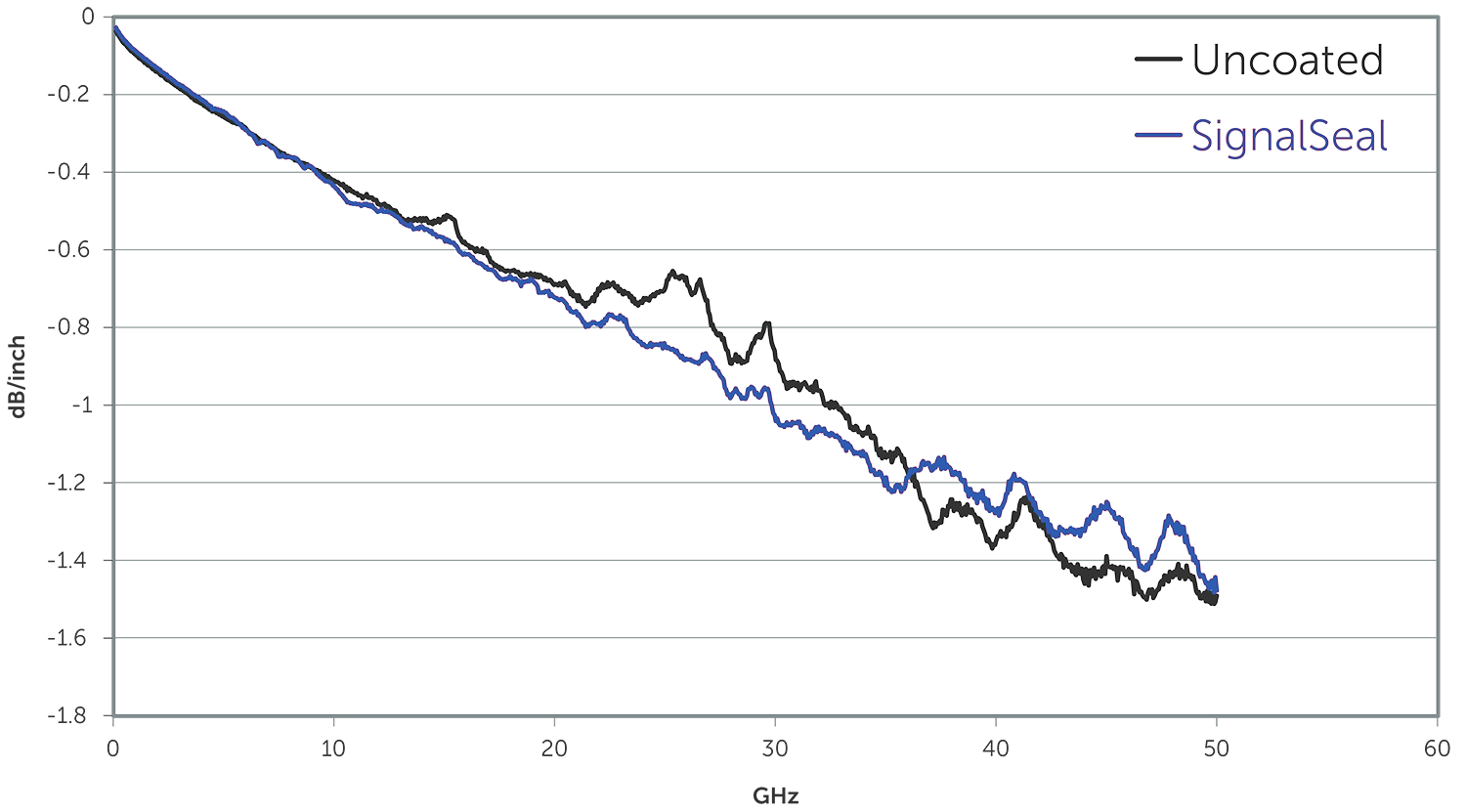 Insertion Loss: Before and After SignalSeal Coating
In a study of the high frequency impact of SignalSeal, Rogers Corp. was contracted to perform a battery of tests on 50 Ohm microstrip transmission lines on 0.0047" thick Rogers RO4350B ™. Broadband testing to 50 GHz was performed on several samples of coated and uncoated samples and the insertion loss over length was analyzed and plotted. The graph shows a direct comparison of a SignalSeal coated and uncoated microstrip sample, which demonstrates negligible insertion loss impact across the full bandwidth of the test. Moreover, several microns of SignalSeal were used to coat the samples, which is many times the thickness typically used to coat production units.
How Does
Protect?



MIL-STD-810G: -70°C to +225°C
IPC-CC-830C: -65°C to +125°C

Moisture & Insulation
Resistance
Paratronix Helps You Move Quickly From Evaluation to Production
When you choose Paratronix for your project, you'll work directly with our coating specialists for R&D collaboration through to production-scale coating services. Our coating service is scalable to fit your requirements from the evaluation phase through to high volume manufacturing.

Evaluate
Test different coating technologies and processes on a small number of units.

Validate
Coat engineering volumes for in-depth evaluation.

Scale
Paratronix can quickly scale up our coating services for production volumes.

FAQs
Is SignalSeal a variation of a legacy conformal coating material?
No – SignalSeal is a proprietary coating that exceeds legacy solutions' environmental protection capabilities while minimally impacting RF performance, and allows for easy rework & handling. For more information on how SignalSeal compares to legacy solutions, please download the Tech Brief here.
Does SignalSeal have any impact on RF electronics?
SignalSeal exhibits a very low dielectric constant and dissipation factor, and is deposited in very thin layers (~1 micron). The combination of SignalSeal's excellent electrical characteristics and ultra-thin, conformal layering results in a minor, or negligible, impact on RF performance to 100 GHz.
What does it take to fully cure SignalSeal?
SignalSeal does not require curing. Unlike some of the conventional conformal coatings that are applied via dip or spray methods, SignalSeal is deposited via a single-step, gentle, room-temperature, and solvent-free Chemical Vapor Deposition (CVD) process in specialized vacuum chambers. The coating builds in thin layers over any exposed surface and is fully polymerized when the process is complete.
Does SignalSeal exhibit any outgassing or other hazardous properties?
SignalSeal does not outgas, and testing has shown that the material meets the historical TML and CVCM as stated in ASTM E595. Additionally, no harsh solvents or chemicals are used in the deposition process.
Does SignalSeal meet the requirements of the IPC-CC-830C standard?
Yes. SignalSeal has passed all of the IPC-CC-830C standards requirements for Ultra Thin (UT) conformal coatings.
Can SignalSeal handle high-temperature and/or high-humidity environments?
SignalSeal has been tested under extreme military and industrial conditions, including over 1000 hours of high temperature, high humidity (85°C/85% RH). The 85/85 testing and field trials establish SignalSeal as one of the most rugged and reliable electronics conformal coatings available. It also does not impede cooling and can be applied over hot-running chips, due to being thermally stable up to 250°C.
Is SignalSeal compatible with coplanar waveguides and microstrip transmission lines?
As with any dielectric coating, some adjustment of the coplanar waveguide or microstrip transmission line structure may be needed to account for the coating, but this can readily be simulated during the design process.
Is SignalSeal suitable for delicate or sensitive components?
The CVD process used to deposit SignalSeal is contactless, and the ultra-thin dielectric coating penetrates well into very complex geometries with narrow features without disturbing the structures mechanically or chemically.
Does SignalSeal block RF interference?
No. SignalSeal is an ultra-thin dielectric conformal coating, and is not suited to use as RF shielding.
What if I need to do rework on a circuit board, how do I remove SignalSeal?
When it comes to rework, SignalSeal does not need to be removed or stripped. The coating can be soldered through, and a component extracted from a circuit board without causing delamination around the site of rework/repair, or leaving damaging residue. SignalSeal can then be reapplied over itself using the same process as the original application. It may be prudent to mask off the surface traces and transmission lines to prevent a second layer of SignalSeal being applied to these areas depending on the system requirements.
I'd like to discuss how SignalSeal can protect our high
frequency electronics.